Dear friends:
WELL, JUST WHEN YOU THOUGHT THAT YOUR WALLET WAS SAFE – HERE COMES ANOTHER MONSTER BOOK!
From RZM, we offer on pre-publication UNTERNEHMEN ILSE, 5. SS-PANZER DIVISION "WIKING", EASTERN POLAND, 27 APRIL 1944. This heavy-weight contender (12″ x 12″ format) is 328 pages and weighs in at 6.5 pounds (3 kilo). Click on the cover to see sample pages and understand why its quality and size justifies the price of $195.00. Just the shipping will cost a pretty penny! However, to make it a little more affordable, you can own this beast for $180.00, and we will keep the shipping at our normal level. We will not charge your credit card until the book is shipped.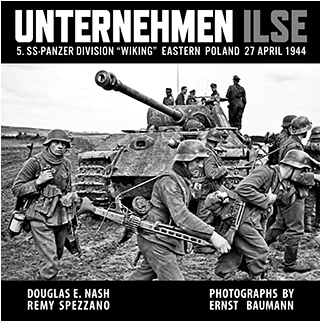 This offer is good until end of day July 31 so do not delay in reserving your copy. We expect the book to reach us around August 25th.
More great books are on the way from us. Hoping to hear from you soon. John and Sharron